Yesterday I turned 29 -- gasp! I know... many women would be hiding under the sofa. No it's not
quite
30 but still you get the comments "omg you're so old." I think women should proudly say their age because you've earned it! I would never want to go back to my early 20's. I made so many stupid mistakes and I'm such a wiser, more mature woman now. Sure I wish I was further along in my career and definitely didn't think I'd be where I am at 29 (both good and bad) but life never works out the way you expected and I can only hope that means there is something awesome awaiting me soon. The job process has been frustrating and can wear down your confidence so this month I decided to say YOLO and have a lot of awesome things lined up. Such as next weekend I'm
meeting my lovely co-host Leeann for the first time
! (P.S. Don't forget to say Happy Birthday to Leeann tomorrow!)
I kept the celebration low key and had dinner with fellow blogging buddies
Laura
,
Alex
&
Nnenna
at
TAO
along with some NYU friends. For dessert we ordered donuts and they graciously wrote happy birthday in delicious chocolate. I was home and in bed before it officially turned my birthday because I'm an old lady lol and I was quite happy with that.
Say hello to this week's
Featured Blogger: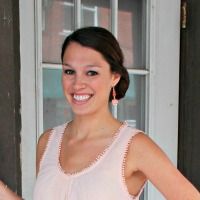 Your turn! Join the Monday Morning Gossip fun with my co-host Leeann of
Join the Gossip
and myself. Here's how it works:
1. Blog about your gossip - all topics accepted so why not link up?!
2. Include the badge (below) in your post and/or link back to our blogs. If you do not oblige, your post will be deleted.
3. Add your link to the list below.
4. Please only submit
ONE
link to the link-up. Additional links will be deleted.