L-R: Fucshia Fanatic, Dance Baby, Electric Beat, Kinetic Candy, Sweet Hook, Gothic Lolita



L-R: Techno, Aquadelic, Sunshine Pop, Gaga for Green, Make Some Noise, Wicked Style
We all know Kim is a nail polish addict.
China Glaze
feeds my addiction well. Their latest collection Electropop is no exception. I tried to keep myself from purchasing all the colors since some of them looked similar to polishes I already had: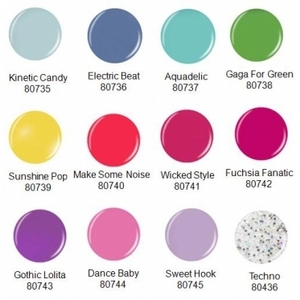 I purchased "Aquadelic," "Fuchsia Fanatic," and "Dance Baby." They are gorgeous! See swatches below:
Aquadelic
Dance Baby
Fuchsia Fanatic
I love them all! Which color is your favorite?
Images via Beauty Almanac