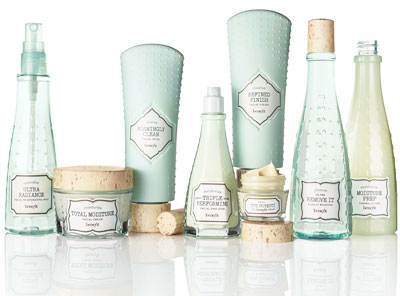 Benefit has created a new line of skincare
b.right
. I saw bloggers tweeting about the launch and I knew I had to get my hands on the products! Since my face has been extremely dry lately, I opted for their
facial cream
.
For $38 you get 1.7 fl. oz. which isn't much more than the
bareMinerals
product I ordered. However, Benefit's jar seems triple (or more) in size. It came in a beautiful package with sandy beach images. The top isn't actually cork (
bummer
) and the jar is surprisingly heavy.
The product is almost as thick as body butter but once applied it feels very light. It claims to "absorb quickly to deeply hydrate the skin using Benefit's exclusive tri-radiance complex." It contains all-natural products including mango butter (yum!). So it does smell great, but it's not the miracle worker I had hoped for such a high price. I'm sure it's a great moisturizer but I need some serious help because anytime I apply it (day and night) my skin still feels thirsty. I've been using for almost a week and the best moisturizer that helped my dry patches was slapping some Pond's cold cream on at night.
Would I buy it again?
Perhaps, with a discount or free shipping.
Have you tried any of the b.right products? What were your thoughts?
Image Source